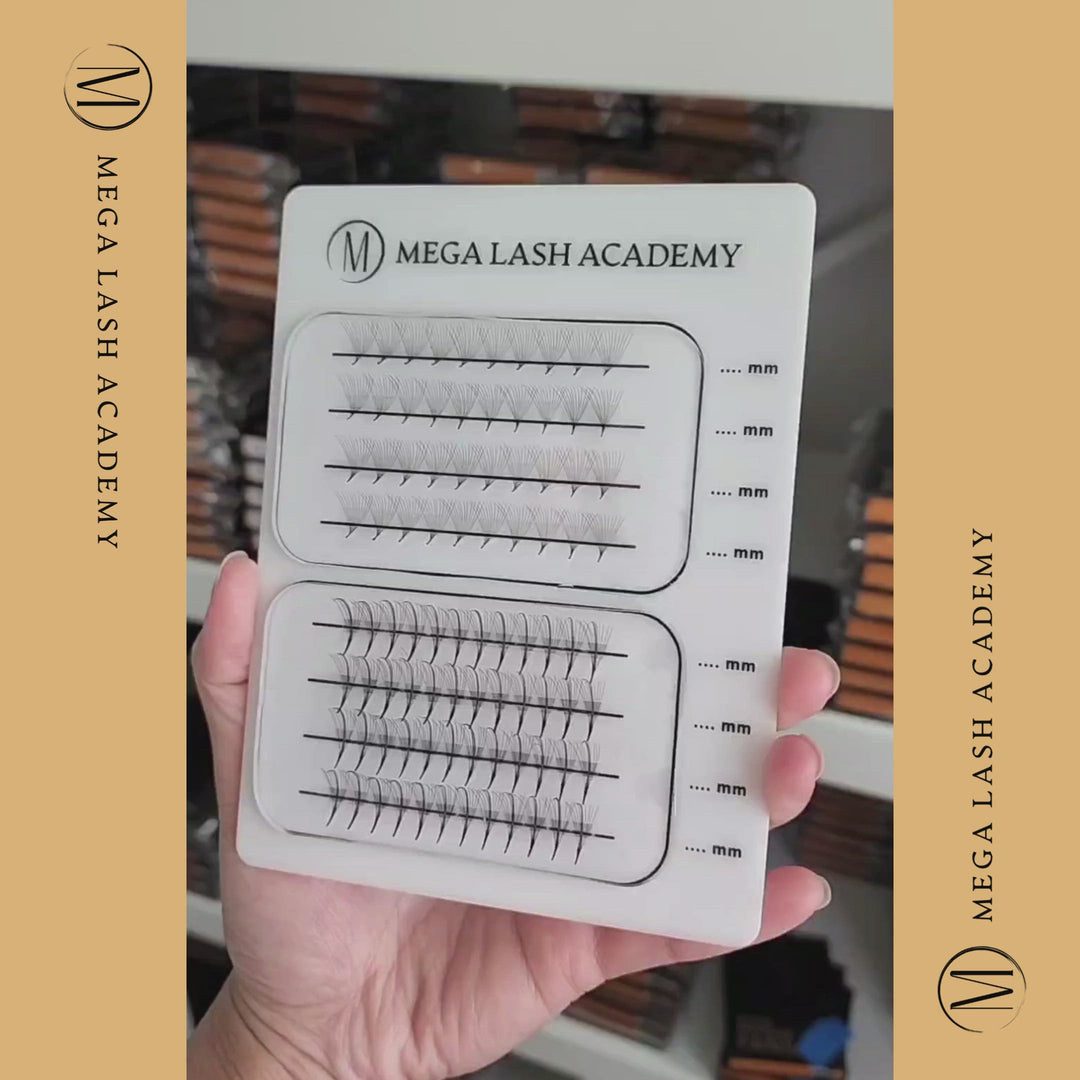 Rapid Promades Starter Kit
Rapid Promades Starter Kit
Regular price
$17.00
$17.00
Sale price
$13.00
$13.00
Includes 1 lash palette and 2 silicone pads
Set up and organize lashes in seconds
Ships within 24 hours

Sold out
Rapid Promades Starter Kit includes 1 Lash Palette and 2 Silicone Pads (Eyelash Holders) to help Lash Artists set up and organize Rapid Promade Fans faster and easier.
Lash Palette:
Made from high quality acrylic with bright white background designed to fit 2 silicone pads allows using multiple lengths and curls.
Perfect for both creating volume fans and holding promade fans strips.
8 rows with line indications for lash strips placement.

Reusable and washable.

Dimensions: 6 x 4.5 x 0.1 inch.
*Please keep lash tile away from adhesive and acetone as they will damage the acrylic permanently.
Silicone Pads:
Specifically designed for Lash Artists, help you organize MLA Rapid Promade lash strips or loose fans.
You can attach/detach strips of lashes or loose fans on this silicone pad without leaving any sticky residue.
Soft cushion-like surface prevents damage to tweezers tips.
Measurement: 3.5 x 2.1 inch.
LASH PALETTE:
Use brush to clean the palette with lash shampoo or mild soap then rinse with clean water, dry with lint-free wipe, disinfect with alcohol then reuse.

We do not recommend using sharp blades such as tweezers to remove excess strip lash residue. Please use tape or alcohol to remove sticky residues.

Please keep lash palette away from ammonia based products such as Windex or other home glass cleaners. Avoid gritty cleansers, polishes, adhesives and acetone. These can damage the acrylic permanently.
**Do not soak in disinfectants for extended periods of time.

SILICONE PAD:
Simply wash with mild soap and rinse it under running water, dry with lint-free wipes or let air dry before the next use. To sanitize wipe or clean with the appropriate cleansers.
LASH PALETTE:
Unwrap from package and disinfected with alcohol before use.
- For MLA Rapid Promade Fans: Place silicone pad(s) on tile, then lay lash trips on the silicone pad(s).
- For volume fans making and loose fans organizing: Place lash strips and/or volumes fans directly on tile.

SILICONE PAD:
Unwrap from package and peel off the protective covers before use.